The Big Easy.
New Orleans, Louisiana May 23-27 2003




Sunday, 25 May 2003. 18:13 CST New Orleans, LA. Cotton Exchange Hotel, Room 803 . Mom and I are in New Orleans for the weekend. I was anticipating for at least the past 6 months of attending the AAPA conference here this weekend, since I have kind of always intended to check out NO. So I booked a hotel and got a plane ticket well ahead of time. I invited mom and she was happy to join me. A while later, after the hotel was booked and our tickets bought, I realized the conference fee was actually 750$. Not wanting to spend THAT much on a conference (compared to CAPA conferences which are cheaper and just as much CME), I thought maybe this would just be a vacation instead.
As for New Orleans itself, we arrived on Friday afternoon, evening really, after a ride in the shuttle with this super talkative driver, chatting away about what we were all doing here, etc. I felt bad nobody was talking to him, so mom and I were laughing and his jokes and answering him. Funny guy. We got dropped off second to last at the Cotton Exchange hotel, which was extremely pleasant, and nice. We unpacked, got changed and headed out in a cab to Christian's for dinner. Christian's was once an old church. They bought it in the 60's and renovated it to the tune of 150K into a restaurant. The food is supposed to just really be superb. French/Creole style. Jackets for men, not at all casual. So I booked reservations for two at 7pm. We arrived a little bit early, and the place filled out fast. The facade is an old, small gothic revival church, painted pink, but in a charming way. The interior is lovely. Stained glass with a yellow hue, a few windows with the scenes of the cross stations, exposed beams in the ceiling, small little dining tables in narrow rows, the high altar the entrance to the kitchen. mati're d in a tuxedo, etc. We ordered a bottle of chardonnay each, I ordered a cup of exquisite corn and potato chowder, and then the meals. I had filet mignon in a buttery sauce, which was done absolutely perfectly. A side of potatoes was delivered, they were fried, breakfast-style, chopped in perfect cubes and really buttery, with a hint of cajun seasoning. Mom had this fish we have never heard of before, some kind of filet, the waiter said was very mild. It came with fresh steamed snap peas and tomato, and several crawfish lightly seasoned. They were both amazing. Every once in a rare while, I eat a steak. Honestly, the beauty of filet mignon is lost on me, it all just tastes like cow meat.
For desert, we had the recommended chocolate espresso torte with strawberry sauce. It was HOLY amazing. So was the "skip" which mom had- I guess it's a Christian's thing, because it's not a NO thing (or so the cabbie told us on the ride home). It's a cookie on the bottom, a flaky and rather crusty one with nuts and buttery flavor, topped with coffee flavored ice cream and slathered in some kind of sweet almondine sauce, with almond slivers and the ice cream was lightly fried. It was amazing. The mait're d ordered us a cab, and we drove back to the French Quarter for a walk around. I had a list of requisite bars we had to check out, ones I thought sounded cool from the guide books. First stop was on Decatur, Molly's Pub- supposedly drawing an "odd cross-section of locals" from writers and pub-crawlers to goths and media types. It was nothing interesting, frankly, when we got there, which was still rather early. Next onto Bourbon to Lafite's Blacksmith Shop. It's one of the only structures in New Orleans that survived not only one, but two fires which leveled the whole city in the 1700's. Some argue it's one of the oldest buildings in the Mississippi River Valley. Jean and Pierre Lafite were actually pirates who had a front as a blacksmith shop to mask their illegal hobbies- notably piracy, and slave trading. It's been a bar since 1944 and is a famous haunt of some notables such as Tennessee Williams.
The structure is old, just to look at, and looks like it might just fall over if the wind picks up too strong. Just about here is where the famous Bourbon Street revelry really begins- and you can just catch a hint of the urine and vomit stench wafting up the street.
As we walked further into the thick of Bourbon, things really got wild- I've really never seen anything like this before. It's totally legal to drink on the streets (just as long as your booze is not in a glass container) so there are bars everywhere, and even streetside stands selling beers or mixed drinks. It's about 90 degrees and 90 percent humidity so frozen mixed booze actually seems like a good idea down there... But the drunken street crawling means the whole length of the brick street is just reeking of vomit. People are staggering all over the place, and of course with booze comes sex, so there are a million topless bars and some much more than topless. In the streets people stand on the galleries (men, of course), and taunt the women down below to flash some boobage for a strand of beads, and you can see this happening all over as large crowds gather to watch. It's really not my thing, frankly. Mom was totally disgusted and I pretty much felt the same way, probably just less so since I live in San Francisco, sister city of sin. (ha ha).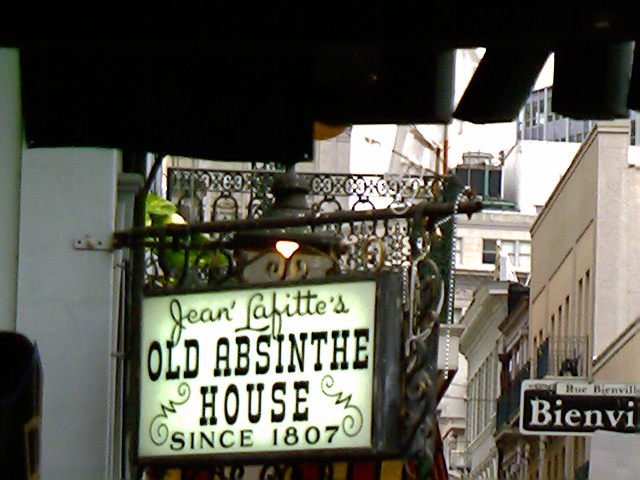 We ended my little tour of bourbon street not finding many bars with live jazz that wasn't sort-of canned, catering to drunk tourists and wanderers, at The Old Absinthe House. Most disappointingly, the historic building is now housing a neon-lit counter bar with a Caribbean theme and stainless steel tanks that look like dryers ready to dispense any one of twenty pre-mixed froufrou drinks. My book said they serve "anisette" now, which tastes like absinthe, but, thankfully, won't cause the brain damage. They didn't have anisette, but gave me a test tube shot of something equivalent, which tasted like black licorace. It burned going down something fierce, and my little stomach was pretty upset for a while after!
We called it quits that night around 11, waking up to hear the maniacs in the room next to us yelling at eachother (I think it's a black thing to yell at eachother to communicate).




Saturday morning we woke up and left the hotel by 10:30, for a full day of shelby's itinerary. We walked all the way down Decatur, with the hope of getting breakfast (a chickory flavored latte and bignets) at the home of these delectables- Cafe DuMonde, only to find a line stretching down the street about a block for a table. We opted to skip it. We walked through the French Market, looking at the stuff- flea market garbage, spices and sauces, and some produce and other fresh goods. Outside on the street was a little shop specifically for small dogs- called Chihuahua GaGa I saw advertised that we searched out- it was sooooo cute in there! My prince was a little big for the stuff, but she has a profusion of clothing and accessories for little tiny guys, including these chairs that you can order in about a hundred different fabrics- including hot pink fuzz. Her dog, Angelo, a little chihuahua who was colored like knightley, had a purple and black zebra striped one. Cute.




We walked down the street to Cafe Bignet for breakfast and split a breakfast sandwich, an order of bignets, and some lattes. Mine hot, hers cold. It was only 11am and already about 90 degrees. Air conditioning can feel sooo good...
From the cafe, we walked around Jackson Square, where we went into St. Louis Cathedral for a little viewing. The cathedral looks architecturally, anyways, just like St. Martin in the Fields church in Trafalgar Square. This one, however, is painted all white, with a vaulted ceiling and frescoes painted of the ascention in the middle. It's really breathtaking. The high altar is considerably more gilt and flash, but still not terribly overdone like some orthodox churches can be. This one was built orginially in the early1700's, then burnt to a crispy pile in the first fire that claimed 90% of the city. A second church was erected, the one that stands today, after that fire, and managed to live through the second fire that flattened 60% of New Orleans later that century.
In Jackson Square, there is a stature of Andrew himself on his horse, a large fountain, pretty gardens, and a plaza all around housing a myriad of artists, street performers and psychics waiting to relieve you of your tips.
Too full from breakfast to stop at Central Grocery for muffalettas, we headed to the Aquarium of the Americas for an afternoon spent in there. It was so awesome- a HUGE tank with pacific coast fish awimming all over- and a series of themed venues you wander though- frogs of the tropics, sharks, then the rainforest- the amazon- with displays of amazon fish, and freshwater river species, including turtles and parrotts and a tree-top walk. Next were seahorses and sea monsters- those monsters stand as the COOLEST marine things I have every seen in my life before. Wow. There are two types- one of them was a Leafy Sea Dragon, and the other we can't seem to recall right now. Holy amazing- they live in the tropical waters of coastal Austrailia.
Next was the pacific coast, and we touched a starfish and a snail in the touch pools. Pretty cool. Some jelly fish, octopus, and others on the way out. What a great place.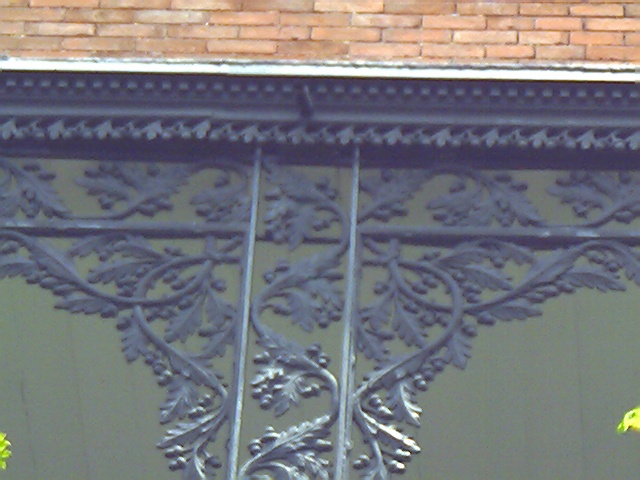 After that, we went to Cafe Maspero for dinner, we got there before the real dinner rush. We had each a salad, mom got a small daquiri, and I got a 1$ mug of Pabst Blue Ribbon, ice-cold and watery. We ordered side dishes of red beans and rice (for me) and jumbalaya ( for mom). It was perfect. Good food. Busy place. Cheap!
We came back to the hotel for a little while, and tried to settle in for the night but we were a little restless. So after an hour, I decided to take my haunted walking tour at 8:15 and mom went to work out. We stopped at the desk to ask the night guy, Brian, where the workout center was only to learn they don't have on in the hotel (THEY LIED ON THE INTERNET!~!!!!!) and mom could try to get into the Ritz Carlton hotel's spa. She wasn't convinced, but Brian said he sends guests there all the time and they seem to have an understanding with our hotel. I left her on Canal Street and headed right as she went left.
My walking tour was okay- not amazing like the ones in London, but just as gross with the stories. I won't go into detail here...
At about 11, I came home to mom, who was denied entry to the Ritz Spa. Bummer! We tried to sleep, but woke up at 4:45 am to the beasts in 711 beating on their door yelling at the person inside to "Open the door you f-ing whore!" Repeatedly, like she didn't hear them the first time or something. I was sooo furious that they persisted after I opened our door and asked them to shut the hell UP (a black guy and a white guy, both my age and piss-drunk) when a fourth member of their party came stumbling back, banging to be let in (just without the obscenitites this time). I went to the desk after taht and complained to a night lady who called them and threatened to call the cops. They took a while, but fel asleep eventually. I was, however, unable to fall back asleep till after 5am. Ugh.
Sunday morning we had a reservation at 10:30am to go to the jazz brunch at Arnaud's. It's a prix fixe menu, with four courses. I had fresh fruit in a sugared cream cheese sauce for the appetizer while mom had the shrimp arnaud (really spicy, her nose was running!) while three guys serenaded the room- a black guy with a jazzy voice and a trumpet, a white guy on a banjo, and another white guy on a cello. The second course were salads for both of us. Next, our main entrees came. I had eggs benedict (delicious, but it always is) and mom had shrimp something (cerceau?) with hash brown potatoes, peas, and mushrooms in a creole SSLastly, we had banannas foster for dessert. The maitre d was this really cute man who did ours personally. He flambeed the banannas in butter, melted brown sugar, rum and banana liquer and poured the mixture over vanilla ice cream. I guess Bananas Foster was invented at Brennan's, down the street in the Quarter. Ahh. We were SOOO full.
After our enormous meal, we went back to the hotel to change into something less sausage-like (for me, anyways) and change rooms to one where there were no beastly drunken frat boy neighbors who need to be shot.
Then we took the St. Charles Streetcar to the Garden District for the cemetery and garden district walking tour.



Guest Entry: Mom.
It was such fun, as usual, to be with Shelby again. It was so good being together and spending time. I wasn't too crazy about New Orleans, and our first day walking down Bourbon Street, I really hated it. It's gross, awful and really disgusting. But we got to see the Garden District and had a tour guide who told us lots of history that was great! and the aquarium was awesome! Today we went to the swamps and we saw about four alligators. It was sooo great! Except for the tour guide, who has his doctorate in wetland biology, and just basically trashed women the whole time he was talking. "They can find their way around WalMart, but no where else! " and "They're soft and smell good." Unbelievable! But it was really a beautiful tour. The swamp was like being in another world. They cyprus trees with their moss hanging down to the water and the water lilies and it was like being on another planet. So serene and beautiful. I really loved it. And when we were in the Audubon Aquarium, we saw a bald eagle and two owls. And lots of other cool fish and wildlife. Loved it.
Tomorrow we leave and I know it'll be months till Shelby and I will be together again. But we're already planning another awesome trip! So that gives me something to look forward to, and not be too sad.
Monday, 26 May 2003. 17:34 Cotton Exchange Hotel, Room 803. We are now in the "quiet room". As mom was complaining to the manager on duty yesterday, he told us today that the guy behond her in the room was the GUY IN ROOM 711 last night!!! AAH! We were CRACKING UP about it. He heard her complain to the manager guy about what a jerk they were the last night. Pretty funny!
I will pick up on our Garden District Walking Tour that we did on the afternoon after brunch. We met at the Garden Book Store on Washington and Pyritania. The tour was pretty awesome. Our guide was this police detective of NOPD who retired from diabetes. He has lived in the district for his whole life, and he loves just guiding these tours. We saw all these amazing houses. It's hard to synthesize all the information he put into the tour, but I'll give a few tidbits here...
The houses in the garden district are the american answer to the architecture of the French Quarter. Americans built the big mansions in answer to the french buildings, which were actually spanish architecture since the fires burnt down all the french buildings in the quarter. The metal railings that are on all the buildings were actually either wrought, or molded. Molded iron is poured into a mold, not as strong, and iron rusts. Wrought iron is ten times more expensive, and it is heated until it can be bent. The fancy scroll work on the porches and fences in New Orleans were poured. They will rust unless you paint them every year down here. There is one fence, which in the 1930's was the most expensive fence made- we saw it on a house there. It's this corn stalk fence that was originally painted all the "real" colors. Yellow husks, green stalks, it had a fruit bowl at the end caps- painted with all the actual colors- red apples, purple grapes, orange oranges, yellow lemons... it was really an unusual fence.



We saw, amongother things, Trent Reznor's house, Anne Rice's house (she has two to three others, though). I guess Anne's husband just died, and she had a black wreath on the door as a symbol of mourning. The tour guide said "they're trying to give her space."
So. We toured around the cemetary St. Louis No. 1, and that was actually REALLY interesting. We got a lot of cemetary history. It was really interesting. They talked about how they bury the bodies in tombs- i guess the tombs were SO expensive to build, that groups went in together to buy these structures. There was a firefighters tomb in No 1 which has 24 spaces in which 2000 bodies are entoombed!!! WOAH! I guess that the bodies were buried in wooden boxes, put into a 8' long space, and allowed to decompose for 18 months, and then the bodies were removed from the coffins, put into bags, and then allowed to decompose until the bones were powder for a further year. Once they were a powder, they were pushed into the back of the spaces (I guess people were so short back then that an 8' long space was actually only used up till 5' with fresh coffin. The other 3' was space for the sacks of bones! "Sacks of bones". I guess they actually got that here. AND this is really good- they took the coffins out of the tombs, and just dumped them in the dumpsters!!! He actually had picutes from very recently where there were two coffins sticking out of the dumpster! GROSS! I guess the smell there even now a days is putrefying. It just takes about 5 years now to decompose since we embalm our bodies nowadays.
The gardens in the garden district were actually made with pretty scented plants on pourpose since the stench from the cemetery was so bad they needed to have really pretty smelling plants to ward off the smell of the decomposing flesh in the cemetery in the middle of the very uppity district. Funny. But not.
At night we had dinner at a local place our buddy at the front desk, Brian reccomended for mufallettas. It's a bakery right down the street actually, from the hotel. They were fried in oil, with a slathering of olives and onions and piled with cold cuts. They were good, but not amazing. Mom and I both liked them, but not so much we were amazed. ONE was enough for us to split. The lady told us they were "halves," so we ordered three (one for each of us, and one for Brian at the desk), but we only ate one between the two of us.



Monday we went on the swamp tour at honey island.
The swamp was really intereting, as mom said in her entry, it was like being in another world. The swamps, as Dr. Wagner the Womanhater said, swamps are freshwater runoff, made because the water table is so low that the land floods. The water pooled and left on teh surface is a swamp. I had no idea what a bayou actually was, but they are (as Womanhater put it "The yankees call them creeks") so they are little tiny streams in the middle of the swamps forming an intricate little network of runways. The trees in the bayou and the swamps are cypress trees, highly important in the making of NO, since the cypress wood is highly resistant to termites, which are a serious problem in NO. I guess the local termites don't eat cypress, but the red termites that are rampant in every costal area (including california and the pacific coast) were brought over in the trading ships and they now infest everything anyways, and they still eat the wood that was formerly resistant, such as cypress and redwood.
So these trees have roots which grow up above the water line- and these roots, called "knees" breathe air, and that's how these trees live in flood waters. The area is really serene- alge and pond flora grow at the watertop, with lillies and little shamrock-like plants making the water looks like it's covered in green. Trees float everywhere, and life is all around. We saw a number of birds, too- like the great blue heron and egrets. A red-eared slider was sunning himself (he's a kind of turtle) and a diamondback snake. I guess the only poisonous snakes in there are cottonmouths. Alligators are in the crocodile family, and basically they're the same, crocks just grow larger and live in relatively different areas. Dr. Womanhater, when I asked "So what is the difference between a crocodile and an alligator?" responded by saying "Like I've never been asked that before..." He explained that they're in the same family and crocks live in areas like austrailia, and africa. Alligators live here, and in florida is about the only place there are both species of alligator and crocodile. I intend to look that up further, since I'm still not entirely satasfied with that explanation. Are both able to live in fresh and salt waters? What about climate and diet? Etc. He wasn't very forthcoming with that information, despite everyone on the boat cooing an affirming "ooooh" with the meager explanation he did give me. My thoughts are that if the doc gets aked that question so frequently, he might consider offering that as a tidbit of info himself.



Anyhow- amidst the woman-bashing commentary, we did get to see about 4 alligators. The water is shallow, mostly- the areas we were in were from 8 to only about a foot deep. The first two gators were in shallow water, one was about 6 feet, one really small, about 4 feet. They look prehistoric- eyes and heads resting about the water, just kind of peering at the surroundings. The next one, which I spotted, was about 8 feet, and one more was about 10 feet. He was cool, he swam away while we were getting closer. They just look like monsters ready to attack you with those eyes- and those scales and big teeth- like jaws from the stone age held over...
All said, it's worth doing, and we both really enjoyed it.





Once back to the hotel, we walked down to the FQ for a meal. We were short on money since shelby the sponge didn't have a single PENNY the ENTIRE TRIP, (snafu, i'll explain later). We managed to eat at a local brewery called the Friehouse. I had a great bowl of chili, fries, and a salad. Mom actually had catfish! I was very proud of her. This was pond-reared catfish, so it was not eating the piles of human deposed toxic waste at the bottom of the mississippi, but it sitll managed to have slimy skin and tentacles. Yuk. She said it was good, though, not fishy tasting at all. I was so proud of her- so southern! ha, ha.
After dinner (I drank a MILLER LIGHT!!!!) we walked to Vomit Street and got hurricanes in go-cups, which we drank while wandering back down the quarter to the hotel. At the desk, we said our goodbyes to Brian, our sweet guy at the front desk, who, despite not being really able to point us in a lot of great directions (muffatettas, the workout center at the Ritz) was a real charmer.
Our last night was really nice- comfortable, we read a book at the pool, mom swam a little in the 96 degree afternoon (here it is at 10pm and I'm outside on the same pool deck, and it's still a sweltering 80 degrees), ordered a movie on the hotel pay-per-view (How to Lose a Guy in 10 Days). Tomorrow we both leave around noon, and our car is coming to get us at 9:30am.
I don't think I liked NO as much as I just like hanging out with the mother. She's always fun to be around, a nonstop party. Has fun wherever she is, really, and has a good time all the time. Mom's where the fun is. She just makes it a fun trip. She finds something to like in the middle of any place she is. Even if that's only at the deck of the pool at the hotel. That's why I love travelling with mom best. She's just that good. We are planning a trip in October for the anual CAPA conference in Palm Springs. I'vebeen three years in a row now, and fro the very first time, I've been telling her how perfect it is for HER. It sucked something collossal being there with Rob, and it wasn't so great myself, but every year I think how much FUN it would be if she were there, just because I know she'd LOVE it so much! They have a pool and a workout center, and it's a great, gorgeous resort, and it's 90 degrees in ocotber and she can work out in the morning, then sit by the pool all afternoon getting sun and reading. She'd LOVE it. So we're going to reluctanly admit dad to our adventure this year (no offense, Pablo), and continue it further to a few days on Catalina Island where dad and I can scuba all day while mom lays out on the beach. It should really be awesome.
So good night, Big Easy. It's starting to rain just a little, and I'm going to be heading to bed. I love you, mom.